Hello to the roughly 300 people that have clicked this link.
It is now officially 2015, and while still a very tiny amount of people read this blog, I wanted to write something. 2015 has some nice things planned, and I wanted to share these potential projects with anyone who accidentally clicked this link.
3D printers
First of is the next Plan B (project Iris for now). This one has hit a snag. I am forced to wait on people more skilled at software and electronics who are busy with the CN642A or other printheads. A lot of great people have started hacking, and after the first bit of information was shared, I knew one thing. I am going to be useless helping hacking this thing. Communication happens with huge speed and with electronics that are beyond my skill. So for now, I am stuck waiting on progress made by other people before I can start work on project Iris again. When people have successfully hacked the CN642A, I will divert all my available resources back to 3DP printing. Until then I have some other things planned.
One of the two main projects planned is a better form of DLP printing. That is all I can share for now, I will have to play my cards pretty close to my chest for now. There are things I need to figure out before I will share all of it. Rest assured that everything will remain open source, though patents may occur.
Hydroponics
The second big project is Hydroponics. There was already a page on this (though it is terribly outdated) with rough explanations. Short summary, it is growing plants (mostly fruits and vegetables) in a soil-less environment, where the water carries all of the oxygen and nutrients. This technique is a lot more efficient with water and fertilizer than conventional growing. You might not guess it from the other content of the site, but I actually like growing plants. I also like building electronics, and I like efficiency, so this project is perfect for me. Programming is happening as we speak, I will post when interesting things have happened.
Some specs of the controller are:
Arduino Mega 2560 controller;
Graphic LCD with rotary encoder switch input;
RTC built in;
SD card support for logging and complex settings;
12 outputs (4 mosfet outputs @12V, 8 relay outputs on connector);
2 bidirectional DC motors (for peristaltic pumps);
4 servo motors support;
I2C support;
DS1820 support (accurate temperature sensor);
10K thermistor support (cheap temperature sensor);
3x Analog inputs for PH and EC sensor;
Additional ports for auxiliary functions (such as fish feeders or weather monitoring);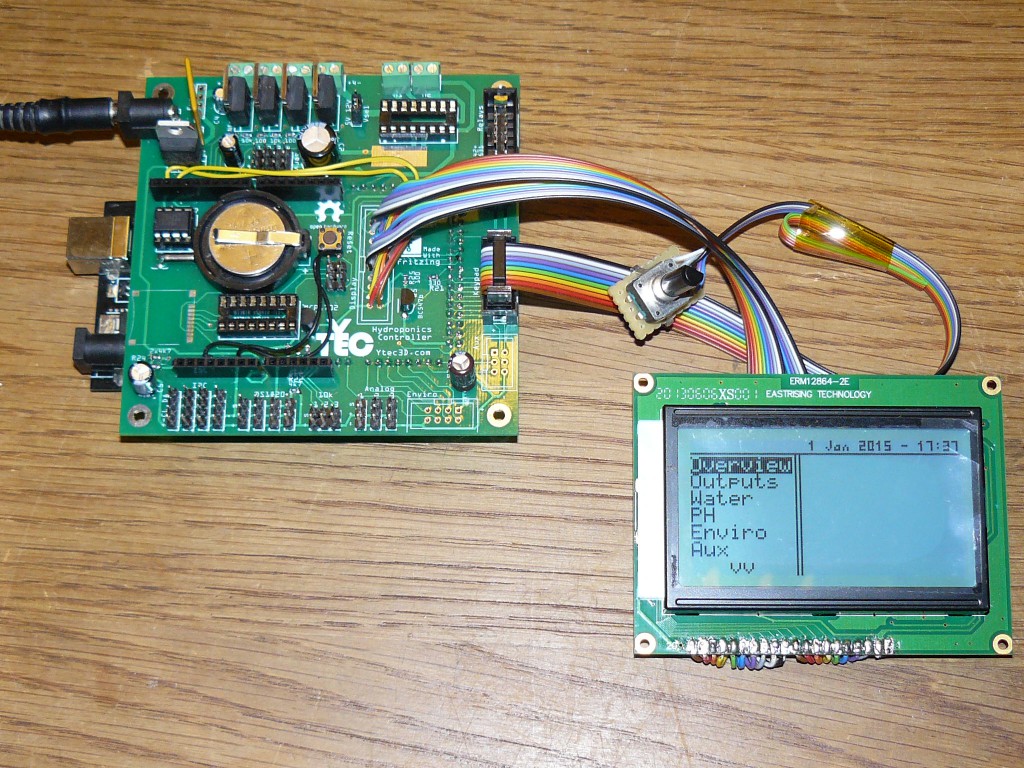 Props and sideprojects
Without my UP!, I have no real printer to make props. I do have a borderlands prop planned, but that one has no priority right no with no good 3D printer. There are also side projects, such as RC projects, and things I don't know of right now.
That is roughly what is going to happen this year. I wish everyone on the forum, and everyone in general a happy new year, and until next time.