(EDIT: The Fallout 4 version of the Pip-Boy is now also available for 3D printing. Go to: https://ytec3d.com/pip-boy-3000-mark-iv/ to see it. If you want the Fallout 3 / Fallout NV version of the Pip-Boy, keep scrolling)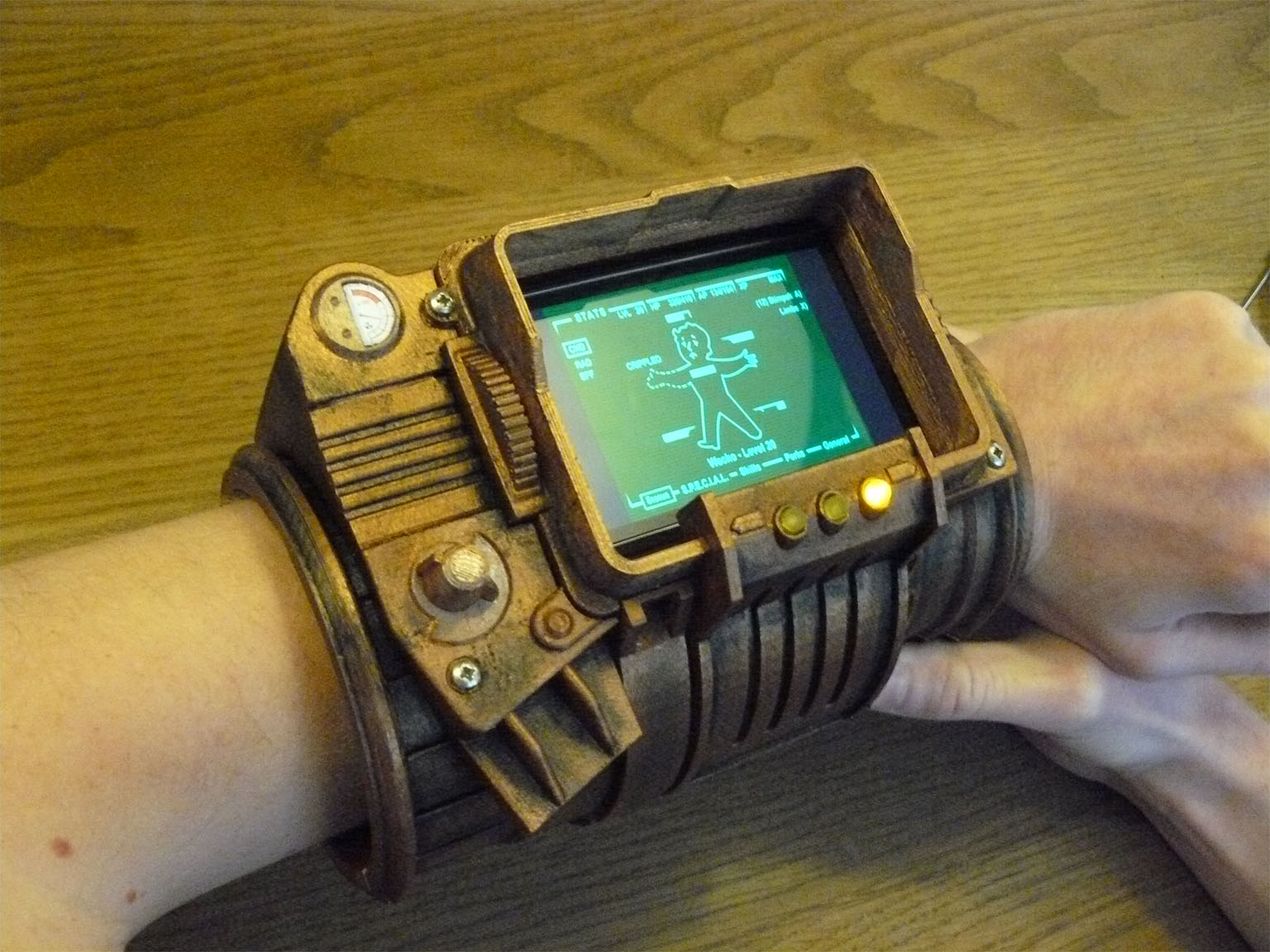 RobCo Industries' Pip-Boy 3000 is one of the most recognizable items from Fallout 3 and Fallout New Vegas. In the game it acts as a menu, showing inventory, health, maps, radio and a whole lot of other things. It is an essential piece in any Fallout collection or cosplay and while it is incredibly recognizable, it is also hard to come by in real life.
Because I am a huge fan of Fallout, I decided to change that by making a 3D printable version that everyone with (or with access to) a 3D printer can make. Comparing to some of my other project it is a fairly simple print that doesn't require weeks of 3D printing time.
Before I could start 3D printing I needed the 3D files. I started with a bunch of reference images to start designing from. There is one other Pip-Boy available, a casting made of a Pip-Boy clock that was added to an ultimate version of the Pip-Boy. One of the first things I noticed was that the Model from the game and that clock don't match. There are some small differences in the shape. I chose the model used in the game, got some reference image and started drawing from there. From those images I made a full shape model that has all features I can 3D print on the model.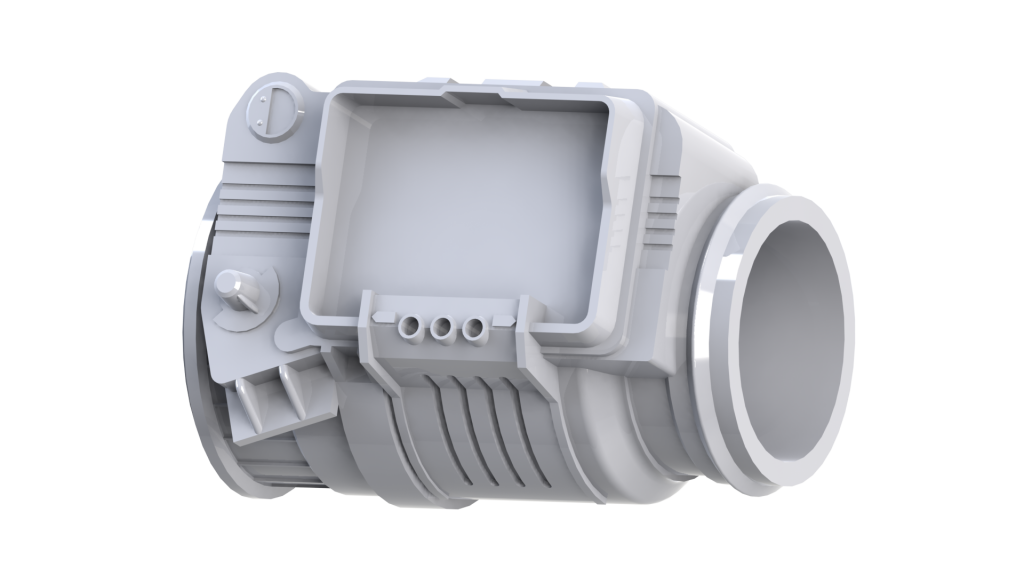 This model got cut up into 3D printable pieces and orientation ridges were added to the design.
Now 40 hours in, it is finally time to start 3D printing. I used an UP! Plus 3D printer from PP3DP. I has a smaller print surface than most 3D printers, but it is incredibly accurate, fast and it handles support material like a dream.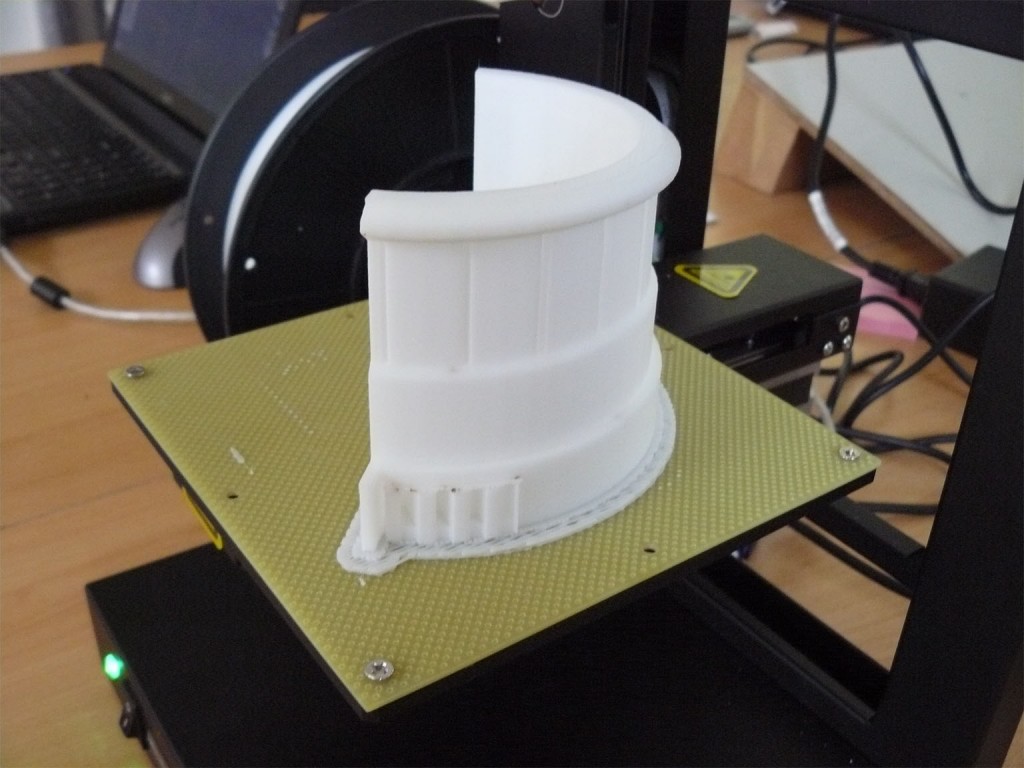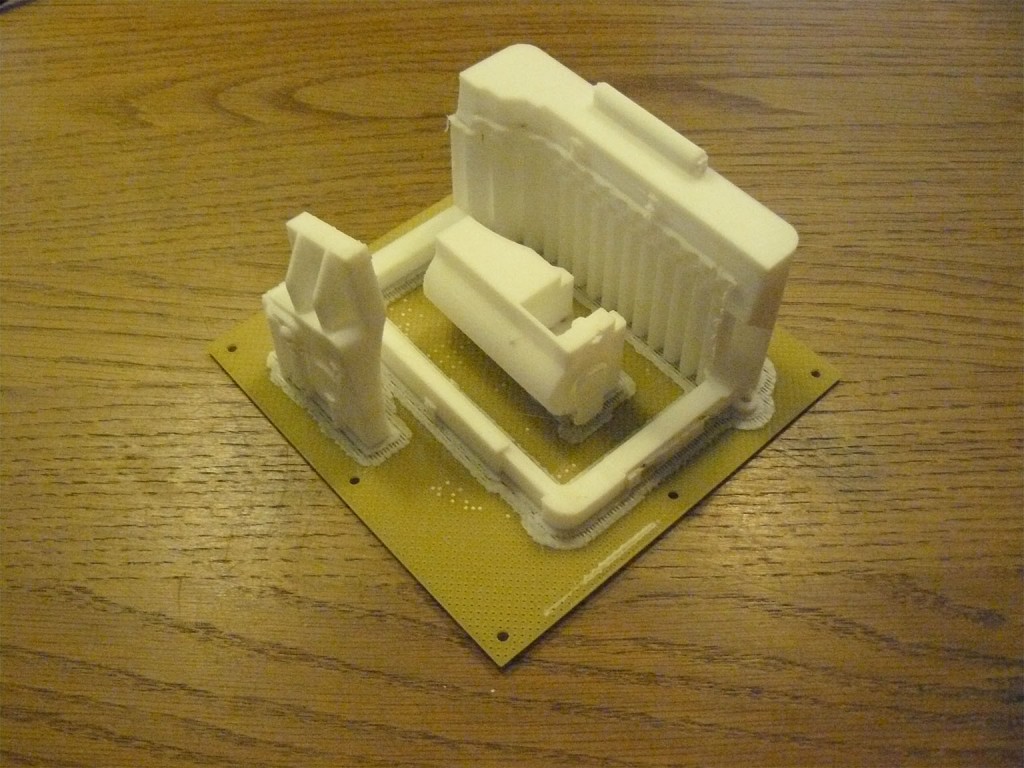 After 3D printing I was left with around 15 3D printed parts. 3D printing took around 25 hours. I printed the parts on the most accurate settings, so I needed very little sanding.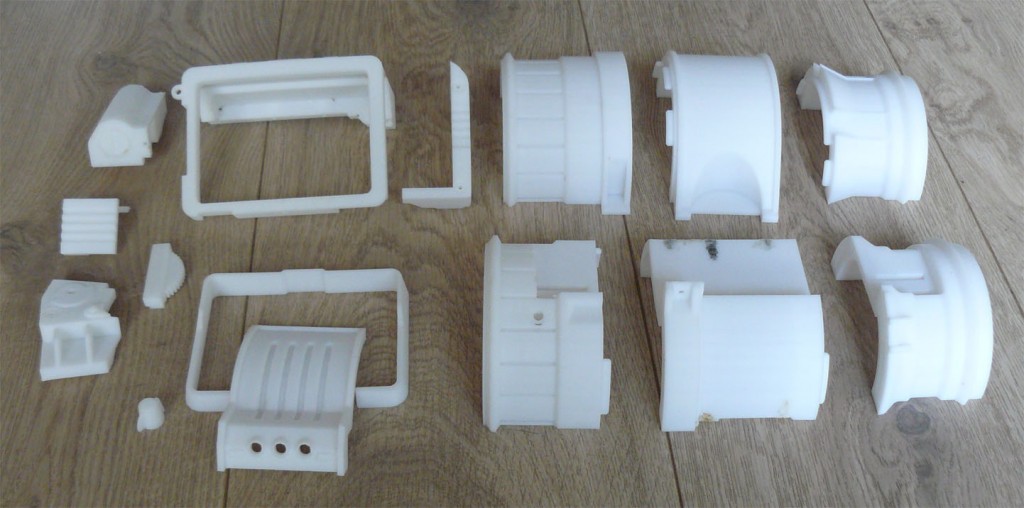 All pieces were glued into 5 big blocks. 2 magnets were added to keep the Pip-Boy closed. After gluing it was time to paint. Before anyone starts complaining, yes, I know that I painted it the wrong color. Painting is split up into 2 parts, base colors and weathering. The base color: bronze.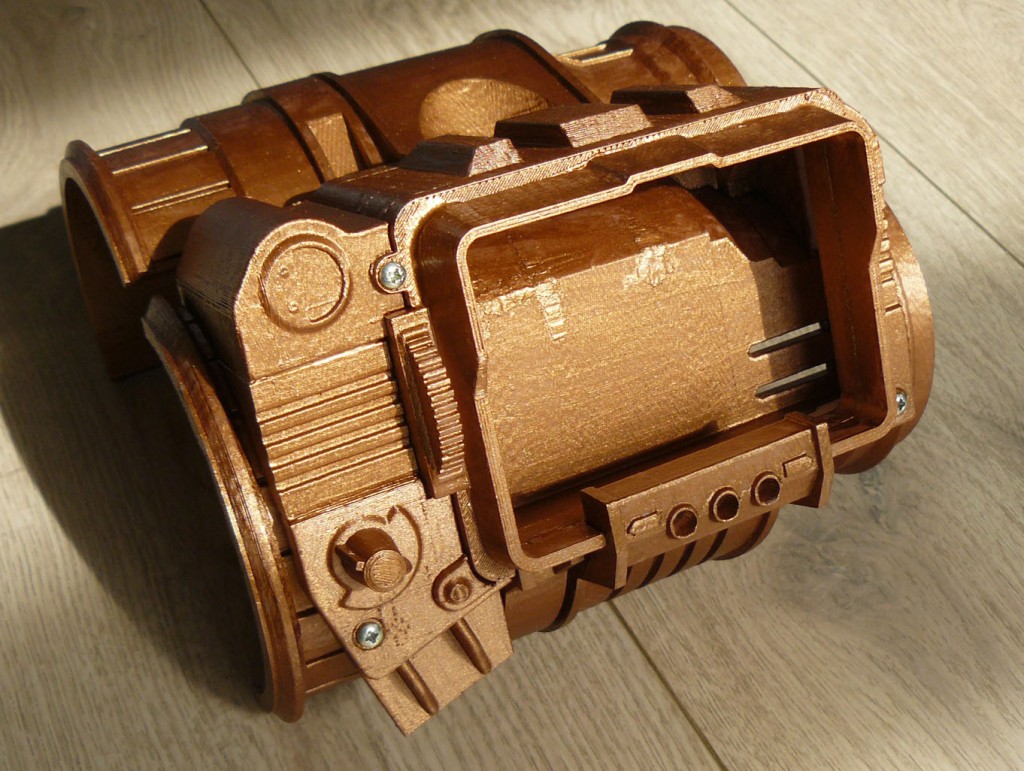 Weathering was done with black paint and a brush. It is a slow process where with a small paintbrush you dab the model very lightly with black paint. It gives the model a dirty, tainted look, just what every Fallout prop needs. The Geiger counter was added as a Laser printed piece of paper glued in the recess.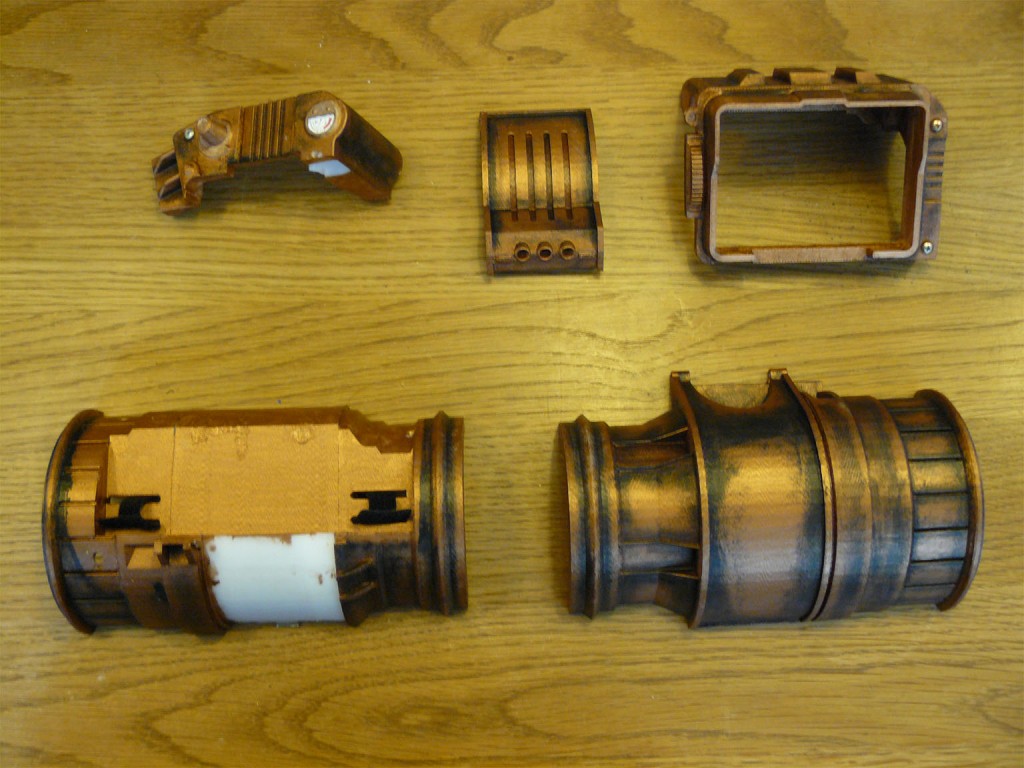 The last thing that was left to do was add the electronics that control the buttons. The buttons themselves were made from ground down 5mm yellow leds. There are switches underneath the leds so when you press a button it presses a switch. The electronics were made using a pic16f628 microcontroller that reads the switch input and turns on that led and turns off all others. The circuit runs from a 9V battery.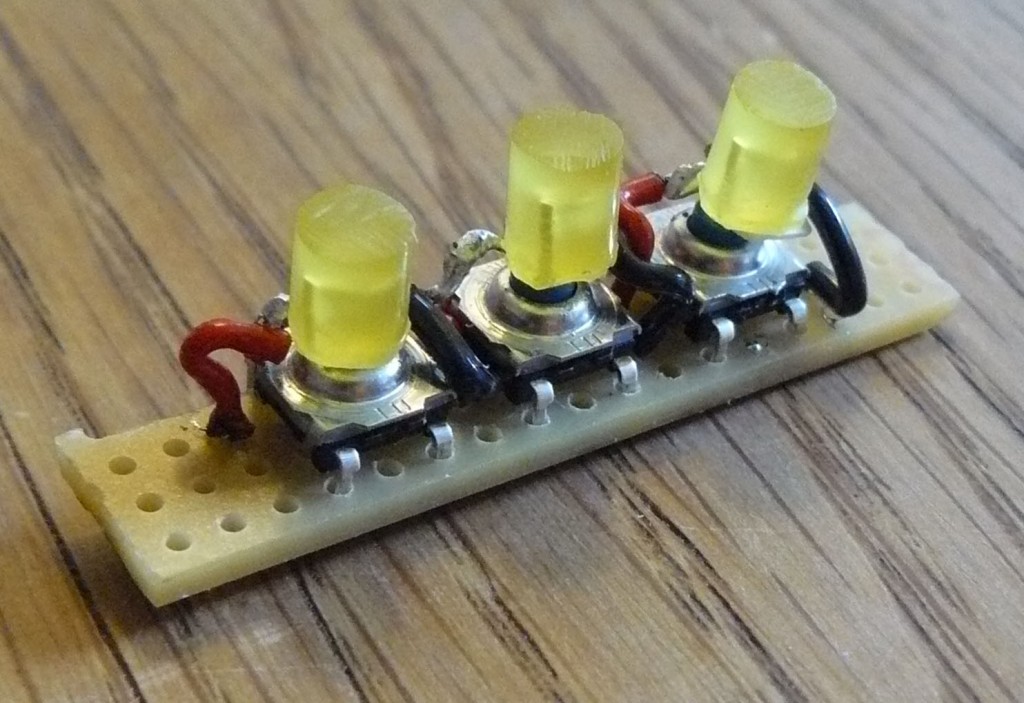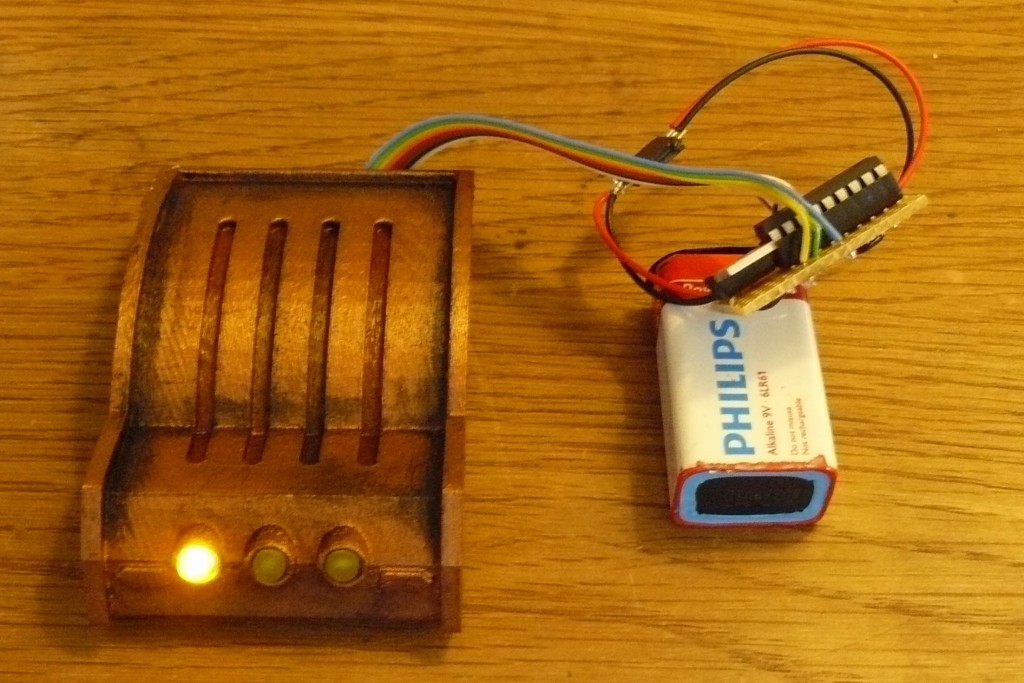 I am quite pleased with the final result. It is wearable and it looks just like the real thing. I managed to fit a Samsung Galaxy (the first one) in the Pip-Boy. It does have to be assembled around the Phone, but once it is in, it looks pretty neat.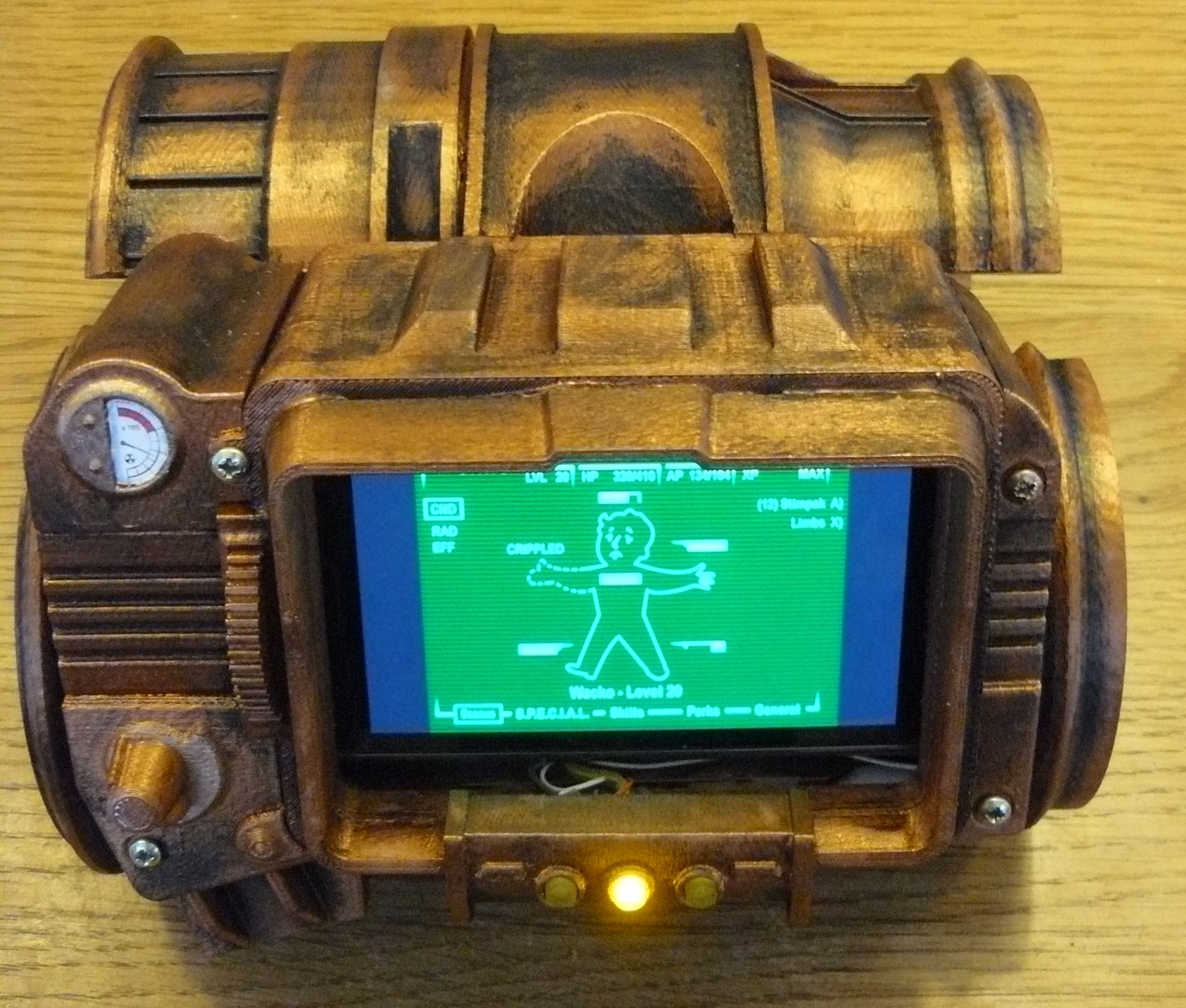 It is not that easy to get on. There is no space for the battery in the Pip-Boy, so it is in the space where my arm is also supposed to be. I have fairly skinny arms, but this was quite a tight fit.The Pip-Boy is attached to my arm with some Velcro straps. The magnets are visible in the slots in the to and the bottom of the picture. While it might be a bit hard to get on, it does fit quite nicely.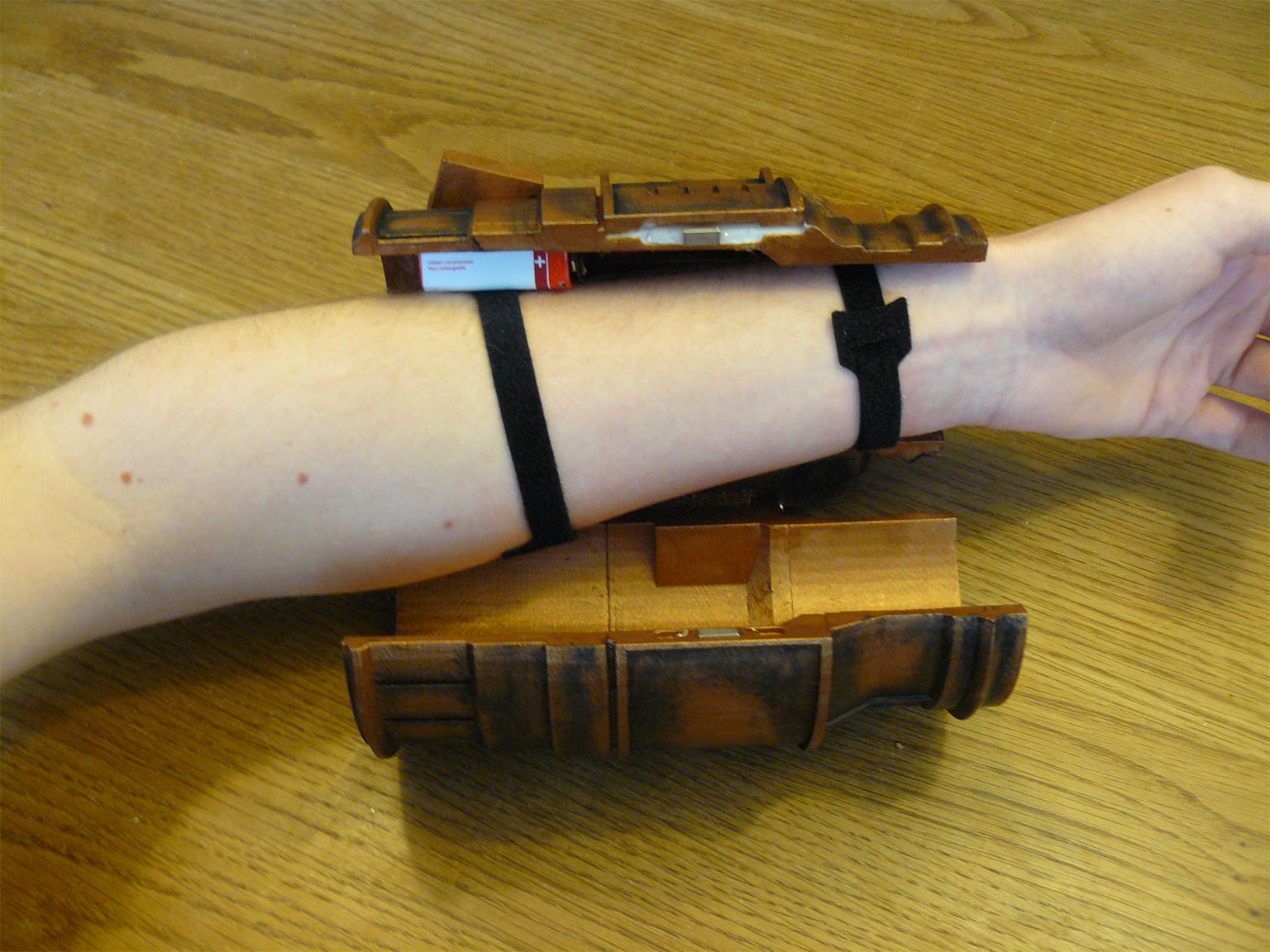 The Pip-Boy was one of my first 3D printing prop projects and while I think it came out great, there are some flaws with it. For starters the color is wrong. When I failed to get the color I wanted, I picked a color I saw and liked from a previous prop. It also only holds a smartphone, while a full Raspberry Pi computer shouldn't be impossible. Because it is a fairly small print, I might redo it in the future, giving it the right color and adding a computer to it.
(Edit June 2015, on the list of things I should have done a long time ago, add the internal size of the Pip-Boy 3000. This is the most asked question, and for some reason, I never added it. Now, with fallout 4 the stream of questions is flowing again, so here it is. The sizes of the pip-boy: 139x75x16mm. If your smartphone is smaller than this, it will fit, if it is larger, it will not. Simple as that.
Make it yourself
I added all the files needed to 3D print a Pip-Boy yourself below. All the stl files plus the PDF with the Geiger counter, all bundled up in one neat package. So go download it and print it yourself. I even added the Pip-Boy glove.
Made one? go to the forum and share your pictures with everyone: https://ytec3d.com/forum/viewtopic.php?f=12&t=6

If you downloaded the files from this site and liked it, please consider going to the Donations page. This will help the development of more free designs and plans.
What else you need:
500g of filament (PLA or ABS)
Glue
Electronics of your choice
5 M4 cylindrical screws and 2 M3 cylindrical screws.
6 gold colored small screws for the front panel and the back hinges
Paint
Magnets
Velcro straps
License

The project described on this page is licensed under the Creative commons – Attribution – ShareAlike license.